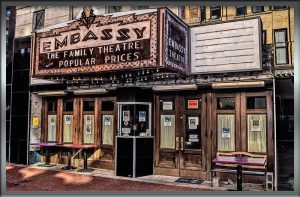 The historic Embassy Theatre opened its doors to the public on November 18, 1931. It was the height of the Great Depression. Although many had less than good fortune, people needed those fantasy realms the movies could provide, giving the Jacob Kauffman family an incentive to build the Embassy Theatre on Cumberland's Baltimore Street.
Grace M. Fisher, manager of the Capitol Theatre, leased the Embassy, and gave every attention to detail to ensure the luxury and comfort of her patrons. Everyone was welcome to witness the new Art Deco visual splendor, first-rate silver screen, and perfect acoustics of the Embassy, built with an orchestra section and balcony to accommodate over 400 customers. For the stay-all-day price of 50 cents, viewers could purchase a ticket at the box office, enjoy the marble water fountains in the lobby, or go upstairs for snacks before settling into comfortable leather seats to enjoy the first-run bill of fare.
Once inside, the Embassy in all its glory could be witnessed in the ceiling's stenciled jungle motifs and wall borders. The lights went down as music was played on the Wurlitzer pipe organ, then cartoons, previews, a newsreel, a serial and the main feature were shown. A jackpot prize of a new set of dishes was offered the third Saturday of every month, and every so often special live guests like Rin Tin Tin or cowboy star Ken Maynard and his horse were featured on the Embassy fore-stage.
In the early Fifties, the cinema's popularity dwindled due to the advent of television. In 1959, the Embassy closed its doors, and the premises were altered to create an annex for the adjacent Cumberland Cloak and Suit Store.  A.C. Warhaft bought the Embassy in 1981 to house his custom drapery shop, which remained until his death in 1992. A nonprofit corporation was formed in December 1997 to revivify the theatre as a multi-purpose arts facility.  The retail ceiling was removed to expose the gloriously colorful stenciled proscenium and ceiling to the orchestra floor.  A stage was built, the original exterior doors were rehung, and a box office was rebuilt to match the original. 
In addition to work to bring back the building to its original form, a handicapped accessible bathroom was added to the first floor, and a fire sprinkler system installed. Wonderful faux finishes painted by local artist John Alderton adorn the lobby of the second floor. Funded entirely by public donations, an electric retractable movie screen was permanently installed. In the past twenty years, the Embassy has presented many scores of plays, comedies, original theatrical work, music, dance and film. Meanwhile, we continue to raise funds for future renovations, while continuing to provide our venue for the performing arts.