fri18sep7:30 PM9:30 PMPeter and the Starcatcher7:30 PM - 9:30 PM EST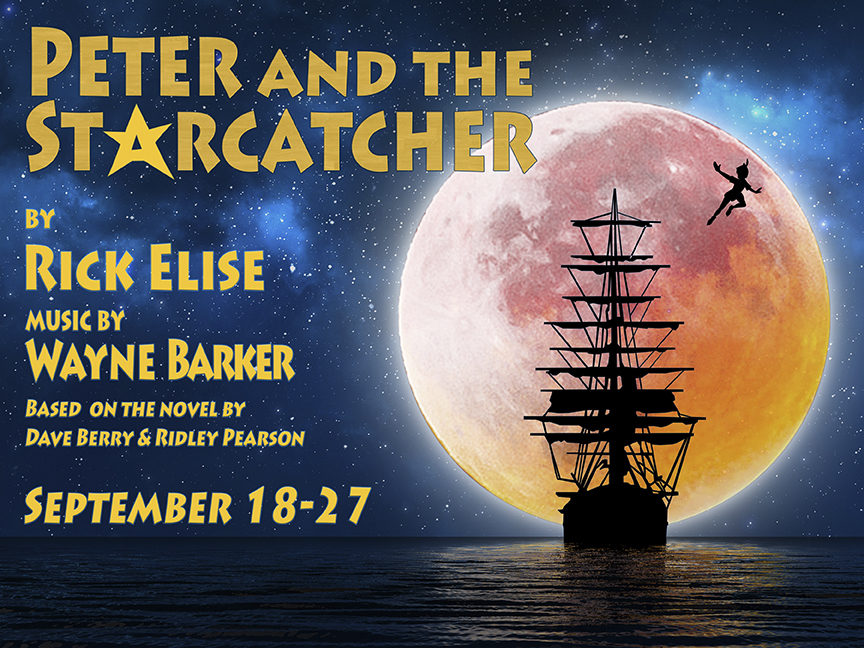 Event Details

Peter and the Starcatcher
By Rick Elice, Music by Wayne Barker
Directed by Marty Jellison

Peter and the Starcatcher is a spellbinding play written by Rick Elice and based on the novel of the same name by Dave Berry and Ridley Pearson.Best known as the origin story of Peter Pan, this tale follows a trio of orphans, Prentiss (Jillian Dugan), Ted (Whitney O'Haver), and "Boy" (Nate Hutchings), as they embark on a ship called "The Neverland". While on board the ship the boys meet a precocious young girl, Molly Aster (Caitlin Weems), who isa Starcatcher-in-training. But before their journey can get underway the ship is taken over by pirates – pirates led by the most fearsome villain of all time …BLACK STACHE!! (Timothy Bambara). The Stache is after the mysterious treasure packed away in a trunk that's been safely stowed on board. The seams of this story quickly unravel as our boys and Molly weather storms, survive shipwrecks,and work together to retrieve the treasure before it's too late.

Director Marty U. Jellison shares, "I am thrilled to be directing this show. In the current state we are all enduring, entertainment, comedy, and a little magic is something we all need right now. We are also ensuring everyone's safety as we rehearse and perform this wonderful show for a muchdeserving audience". Kelly Schrecengost, the shows Musical Director, is especially excited, stating, "I love the passion of this cast! They are putting their heart and soul into this! This production is going to be so fun. Bring out the whole family for some laughs!" This will be a family-friendly adventure appropriate for people, pirates, and mermaids of all ages!

Come join us for a magical evening! Maybe the star stuff will "make ya watcha wanna be"?

Rounding out this super-talented cast are Danise Whitlock, Kenny Heath,Amy Dzaack, Karl Glocker, Kevin Shreve, Matt Armentrout, Dannagale Acord, and Jessica Miller.

Peter and the Starcatcher will run two consecutive weekends. Show dates are September 18th, 19th, 20th, 25th,26th, and 27th. Show times are 8 pm on Fridays and Saturdays, and 2 pm on Sundays.

The cost of admission is $16 per person, $14 for students and seniors. To reserve tickets, call the box office at (240) 362 – 7183 or visit us online at https://www.eventbrite.com/e/peter-and-the-starcatcher-tickets-116130542579. The Embassy is at 49 Baltimore St. in downtown Cumberland.
Future Event Times in this Repeating Event Series
september 19, 2020 7:30 PM - september 19, 2020 9:30 PMseptember 20, 2020 2:00 PM - september 20, 2020 4:00 PMseptember 25, 2020 7:30 PM - september 26, 2020 9:30 PMseptember 26, 2020 7:30 PM - september 26, 2020 9:30 PMseptember 27, 2020 2:00 PM - september 27, 2020 4:00 PM
Time

(Friday) 7:30 PM - 9:30 PM